An M.I Abaga album never drops on schedule but is always on time. The Yxng Dxnzl album artwork was designed and tweeted since last year but is finally out along this #LambAugust series. Nobody knew he was tweeting song titles, every sentence as a title was an independent statement and kinda made a paragraph all put together. "Yxng Dxnzl" is said to be the first in a series of 3 music projects by the short black boy.
With that said, Lets dive into MI Abaga 's 8th project; A Study on Self Worth: Yxng Dxnzl.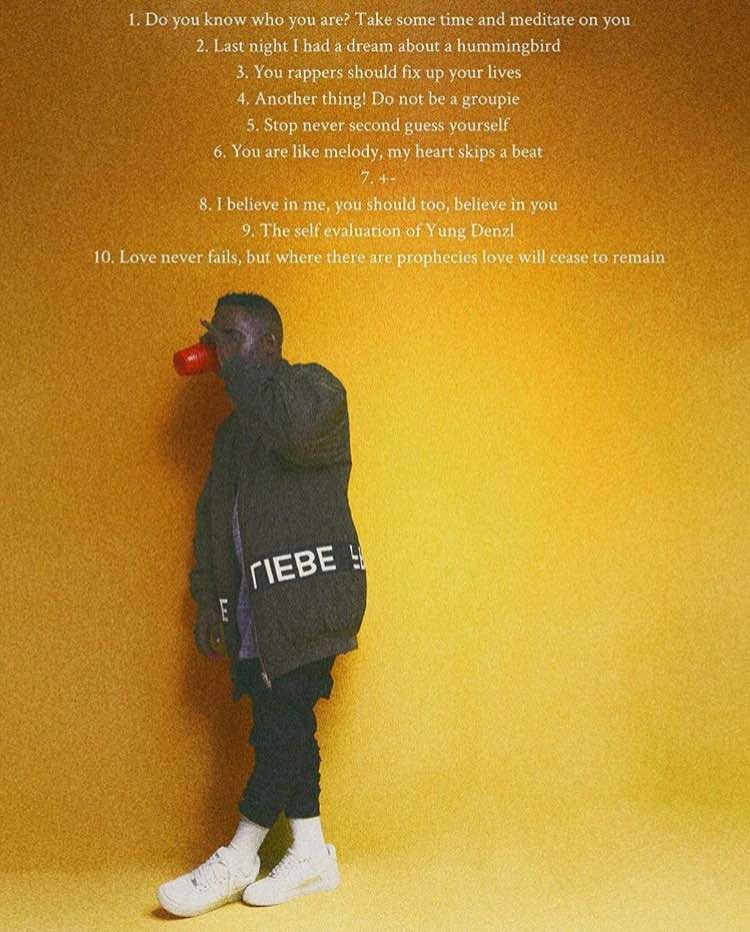 1. DO YOU KNOW WHO YOU ARE? TAKE SOME TIME AND MEDITATE ON YOU ft Tay Iwar
Beginning with a coin toss and a chirrup of birds in the background,
Tay
comes to the hook with a message of loving the therapeutic powers of nature.
MI
is a prophet with truth, speaking words with such an haunting audacity that each end-rhyme sinks deep.
Divide and conquer each other we relish policy//You cannot build each other up?//How would you build economy? Like Talib Kweli and 2baba before him, MI enjoins all Africans to find peace in love through "meditating on pain." By connecting a straight line of History to the Self, MI finds something bigger to project as muse to the path to redemption as a people.
The gem of this beautiful opener however, is the exchange between MI and Caryn Solomon where he once again, subtly references feminism as in the line "let your woman be king." The song ends with M.I talking to what seems like a therapist.
Solid opener.
2. LAST NIGHT I HAD A DREAM ABOUT A HUMMINGBIRD
The one thing so dope about this album so far, and it seems will run through the
LAMB Projects
is the use of spoken word as a canvas on which to bring the colors of each record to life.
A short cut, MI's dream about a hummingbird is actually a reality, there are people "sitting pretty full of pity singing all the sweetest songs that you ever heard" But like self doubt challenges you, psychologically you're blind to the fact that "the door to your cages has been broken for ages".
This cut is beautifully arranged, He lets the instrumental run. The song ends with more words by the therapist.
3. YOU RAPPERS SHOULD FIX UP YOUR LIVES
The album comes alive with some colors with this highly controversial single released last year, somehow, it works with the overriding theme of this project , inspiring, introspective. Such a bop, little wonder it won "Rap song of the year" at the Headies. There is a newly added political rant at the end in Yoruba, after which the therapist is back.
4. ANOTHER THING! DO NOT BE A GROUPIE
The theme of this track is loyalty and M.I is rapping ferociously about his time at Chocolate City and subtly about his relations with its artistes. MI brags about Chocolate City being Africa's biggest label and the allure of money. One wonders who the shots on these tracks are specifically for? Milli? Jesse? or most recently, Koker?
Teaching again on the impact of self worth, MI uses himself as example for the industry domination of acts signed or once signed on Choc City. There's a haunting beat playing remiscent of Brother as MI lashes out at artistes who don't stay loyal to their development, instead jumping on bandwagons or simply put - being a groupie for money.
5. STOP NEVER SECOND GUESS YOURSELF ft Cina Soul
A whooshing sound interlopes with a trap instrumental as MI spits about self esteem. Lyrics like: girl you fucking awesome, have you met yourself?// take yourself to dinner then caress yourself// be your own precipitation you can wet yourself// sexy mother, well have you met yourself?
This is a bop and possibly a single. A ladies anthem , will be a lot of people's favorite.
The therapist reappears again at the end of this track.
6. YOU ARE LIKE A MELODY, MY HEART SKIPS A BEAT ft Lorine Chia
Cameroonian born American artiste
Lorine Chia
produces a dreamy hook on this, singing:
"in the middle of the night// you are the star that lights my life// everyone that I see, I know that they're not here for me// you're the only one I notice, taking all my focus// you're like melody, my heart skips a beat
as
MI
comes through on verses with uplifting words perfectly delivered.
7.
+ - ft Odunsi The Engine and Lady Donli
"They look up to me,"
Odunsi
sings, no doubt a jibe at celebrity worship, going on to say he
"lives his life"
as all people should do.
MI
preaches positive vibe.
Miracle of a beat, softly crafted with the potential to explode into a fully crafted trap beat (which it never does).
Lady
Donli
comes in for an outro like role, adopting an
Everything
is
Love
slower
Beyoncé
flow. The regularly adopted spoken word outro (so far therapeutic in its form) on this plays on a Greek mythology of ascendance (the one where the sons of Kronos conspire to kill him).
Clearly,
MI
feels the weight of his overwhelming influence in the African Hip Hop scene and its accompanying hate. The therapist
Caryn
Solomon
assures him its nothing personal and had some more uplifting words for him.
8. I BELIEVE IN ME, YOU SHOULD TOO, BELIEVE IN YOU
A lightly handled sample off the fifth track on this album, MI flexes his lyrical skill on this one; as the title suggests. "I" is the personal pronoun meant to extend to you.
That Boy GMK is wilding on this beat, the haunting sample keeps it dark and the drums keeps it bumping.
Mentioning the names of American superstars, MI places himself in the same breath as they; with the Pusha T comparison, MI reveals where he is trying to take his music to at this point in his career. The song is about self esteem so yeah, The therapist is back.
9. THE SELF EVALUATION OF YUNG DENZL ft Niyola
Title track. Yung Denzl is obviously an alter ego. On this song that opens with an advisory phone call from his mother, The hook that comes next expresses his desire to do exactly the opposite.
MI
expressed emotions of depression, shining a light on the symptoms of a depressed person.
Like almost everybody thinks, depression isn't sadness caused by lack of material things. It's a sickness, it drowns. One should be reminded that "depression and drug addiction don't blend" even though they might seem the most popular way of coping.
MI
or his alterego
Yung Denzl
is depressed , It is funny that he tweeted that most of the dark stuff on the album was not about him but about other artistes/celebrities - This joint totally sounded personal and has to be
MI
's most introspective performance.
10. LOVE NEVER FAILS, BUT WHEN THERE ARE PROPHECIES LOVE WILL CEASE TO REMAIN ft Tay Iwar and PatrickxxxLee
MI's decision to end the album on this note is applaudable – shows his commitment to craft and message. He was just singing and harmonizing somewhere in between .
A story of a lady referred to as simply she, the story is a sad one about the ignorance surrounding depression. The character's mother takes her to a church.
Lulling the message into the instrumentation, the character is asked to try, no matter how hard it seems. "No, this is not music, just emotion" Tay later disclaims, placing the song into the realm of realism.
In Conclusion, MI's project is beautiful and very important, mainly because of the theme and subject matters he touched on - Self Esteem, Mental health among-st other issues. The project itself throws up a lot more questions than answers, and as therapeutic as it can be, it was so dark that if you let yourself really get into it, it can draw you into a dark place, The project does not essentially heal you at the end -This is its major drawback .

Nevertheless, the music on it is amazing , this is not the usual MI. Like he said, he knows how to make music that sells. He tweeted that he was risking his career by putting this out because this is an entirely new direction, One can see where MI is going with this project, Nigerian Music is currently garnering world attention, and this album is the right project to present to the world about Nigerian rap, the issues discussed, the positivity, the uplifting words. Many say he is riding on the "Alte" Wave, but what the short black boy is really doing is switching target audiences, we saw that as much on his earlier project "#Rendevous" , even though there were a couple joints on it for the local Nigeria music listener, the entire strategy is for a new set of Nigerian music listeners.
This is what M.I must do if he must survive in an industry that has seen his class and peers such as Naeto C , Banky W , D'banj almost now faded into oblivion. It is evolve or die for MI Abaga and the Short black boy is evolving, He cannot be making another MI 2 album: The Movie in 2018.