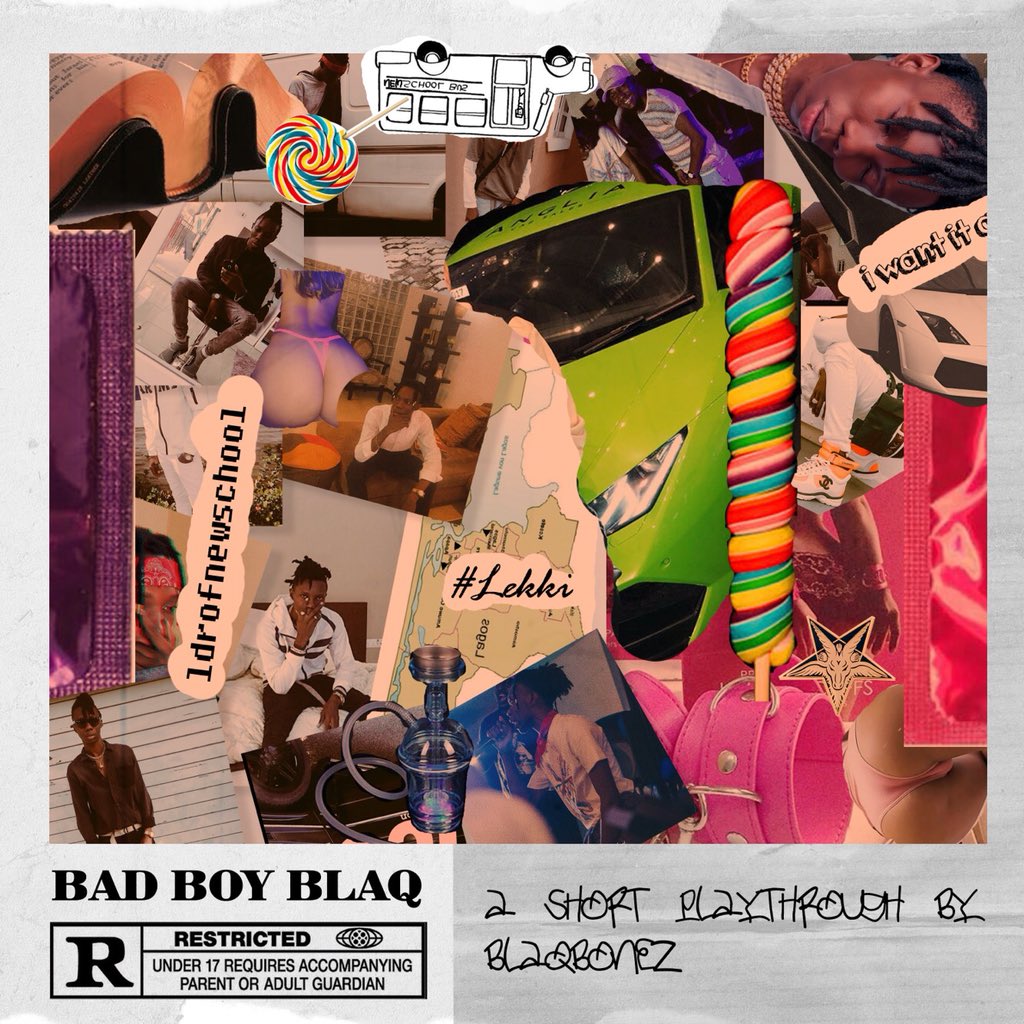 Bringing an end to the MI executive produced LAMB Series is Bad Boy Blaq from Blaqbonez who ironically, threw a direct chain of contact between himself and MI on his You Rappers Should Fix Up Your Lives cover where he rapped, quite humorously: only tape that i aint dropped issa sex tape.
His words hold a truism: underground, Blaqbonez is one of the more respected emcees in the post generation of textcees. Making a name as a text rapper on the popular forum Nairaland to the same ethic towards a career as a rapper, the young man is on the verge of a break and his talent has no doubt, caught the attention of fans and industry players.
Almost a month after being announced in the LAMB August Series by MI, Blaq built on the buzz and prowess of his young audience. In 2018, connecting directly to the source proves invaluable PR genius and his opening of a WhatsApp group for his "tribe" with promised super flex for them was him working the angles really well.
But ultimately, the album is what will be judged. And we're here for that.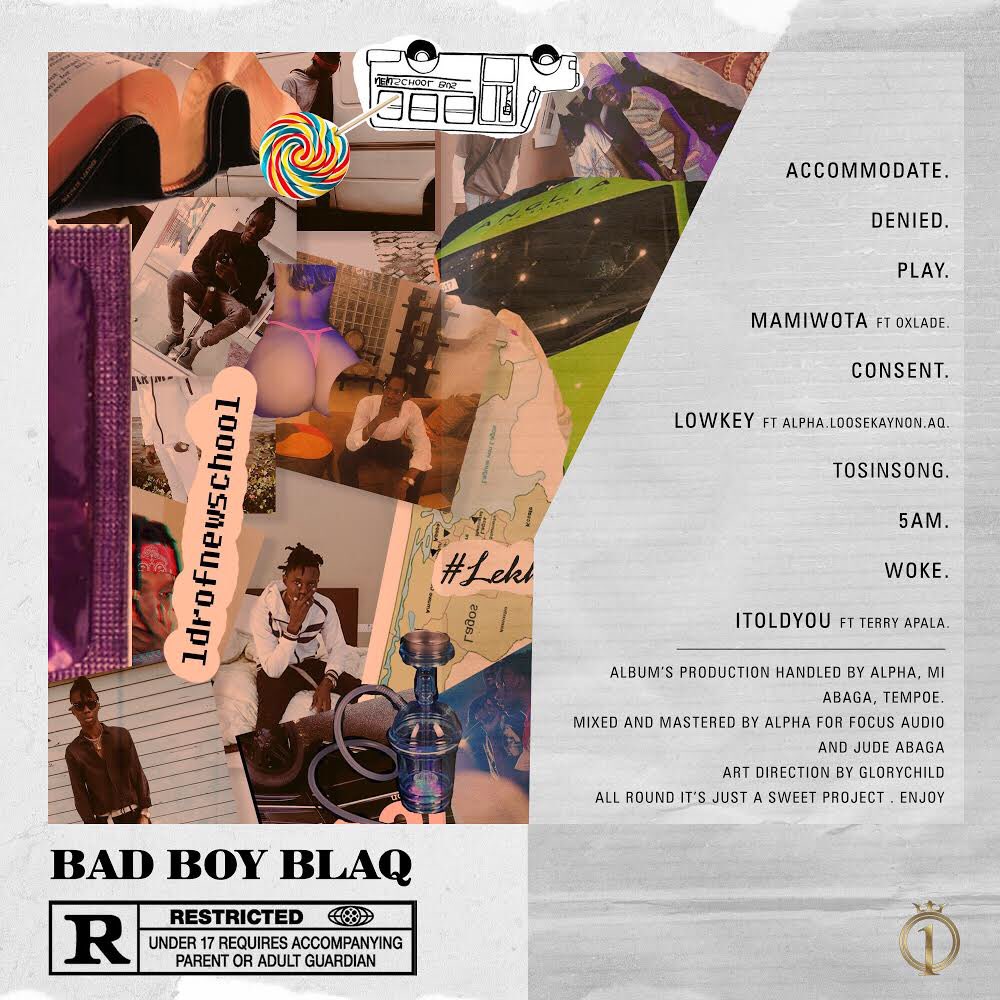 Among the writers of popular rap blog DJ Booth, there are four ways to go about an album opener. Among those is a mood setter; the most employed. Bad Boy Blaq starts off with a mid tempo trap jam, giving you a feel of what to expect from Blaqbonez's offering.
'Had a conversation with the devil' is repeated, as Blaq goes on to say he doesn't accommodate, and declaring his own path by spazzing out on the song even after the beat drops. Good opener.
Trap is
Blaqbonez's
forte and on
Denied
, he has you bumping your head in to time as he raps "
I'm so ahead of my time//2018 held me back"
and goes on to make the most startling proclamations concerning
the ideology that birthed the
LAMB
Projects
"Carrying my cross, I'm like Christ."
This beat bangs harder than a sex starved driver and Blaq rides the wave easily, name dropping his more famous admirers such as MI Abaga and A-Q, who Blaqbonez had featured a long time ago before there was even mainstream recognition.
Blaqbonez is so young it's hard to believe he's been doing this since 2012 and amongst his discography include projects like Hip Hop in Blaq, A Day's Work, Cassettes, Tapes & TVs, and Last Time Under.
This song, released as a pre album single is a catchy tune that grows on you. As a follow up to Melanin Melody, Play is that soft song meant for your car speakers as you ride to a fancy ass night club.
Somebody go play somebody o, Blaq sings, coolly affirming his talent not as just a firebrand rapper or trapper (as shown in Icon) but as an artiste; a complete one.
This song begins with a Blaq intro about something killing a man – a popular Nigerian joke about how either women, smoking or alcohol will kill you and even if they don't, something else will.
Oxlade vocals are invested in this. He solidly puts in a worthy performance that makes this tune one of the most enjoyable on this album .
This quite groovy jam thrives off the featured act and when Blaqbonez arrives to the party, everything falls in place to proclaim Mamiwota as one of the more profound achievements of the album.
This generation's preoccupations lie with identifying with the suppressed voices. The #MeToo movement, the spike in media coverage and pop culture dabble in feminist lectures. Blaq too, recognizes the importance of consent in sexual relations.
Lust makes way for logic in Blaqbonez's cut as he sings that even though the desired in his head and he wants her in his bed, he needs her consent first.
The grooviness of the song just goes on to further stamp Blaqbonez's ability to treat a heavy topic lightly, not as mockery but as respect to his chosen sound, as a medium to efficiently reach the target audience. Also, the spoken word outro are important seconds in this album. A queen should have choices and her choices should be respected.
6. LOWKEY (ft. Alpha, Loose Kaynon and A-Q)
The Bad Boy features Alpha (have you copped his album Half Price?) and the Crown duo on Lowkey; a song about being quiet in the aftermath of success or possession of wealth, as Blaq sings the refrain "they ain't gotta know" quite infectiously, the adlibs behind every word as important as every verse.
The "no dey talk too much," before Loose Kaynon's fire verse and A-Q owns his role as he raps about his abilities so fiercely.
Line of the song: End SARS, no please// decentralize the whole police – A-Q Obviously the Son of Gilbert fancies State Police, a much deliberated issue and quite a divisive one in Nigeria Politics.
What is a Young Person's Album without a song about conflict amidst lovers? Unlike Mamiwota, Blaqbonez isn't crooning about a fine lady here; he gets in an argument with his lady from the get go.
Detailing their relationship in a well structured verse (it's amazing how Blaq is able to say so much in so few lines), he cites entitlement as his vice, and her being woke as key factors. Though he says he likes a girl whose proud and knows what she wants, his verse denotes confusion as to not knowing what led them to their current status.
The last words on the song ask another important question: what's better? Good music or hard music?
Starts off with chords remiscent of church hymns. There's a hum like sound. Blaqbonez erases all thoughts of church as he sings, "I no dey sleep until it's five am."
His fan base should relate to this; the pursuit of the dream, the sleepless nights working on something. Like many other songs on Bad Boy Blaq, this cut subtly addresses an important issue.
Fast paced, this song falls into a distinct category, quite hard to place. But its quite danceable, possesses an electro sound as Blaqbonez celebrates his little success and his ability to still be better, constantly improve.
10.

I TOLD YOU (ft. Terry Apala)
The King of Apala music makes an appearance on the album closer.
Blaqbonez
reminisces on the negative energy he got on the come up.
We'll never get used to it but truly, Bad Boy Blaq is Blaqbonez's debut album. Under the tutelage of the greats and his inborn talent for hard work and dedication and no doubt, diverse musical interests, Blaqbonez is finally here.
Bad Boy Blaq has no bad songs. Every cut serves a purpose . Blaqbonez as a young person recognizes the idiosyncrasies of every youth and positively, collectively, portrays them in these songs.
A lot of new Listeners would hit the album not knowing what to expect from a Blaq Bonez album, but these collection of songs was carefully curated and makes for a totally enjoyable listening experience with the right balance of introspective and bouncy tunes, Blaq Bonez instantly turns into your favorite young rapper.