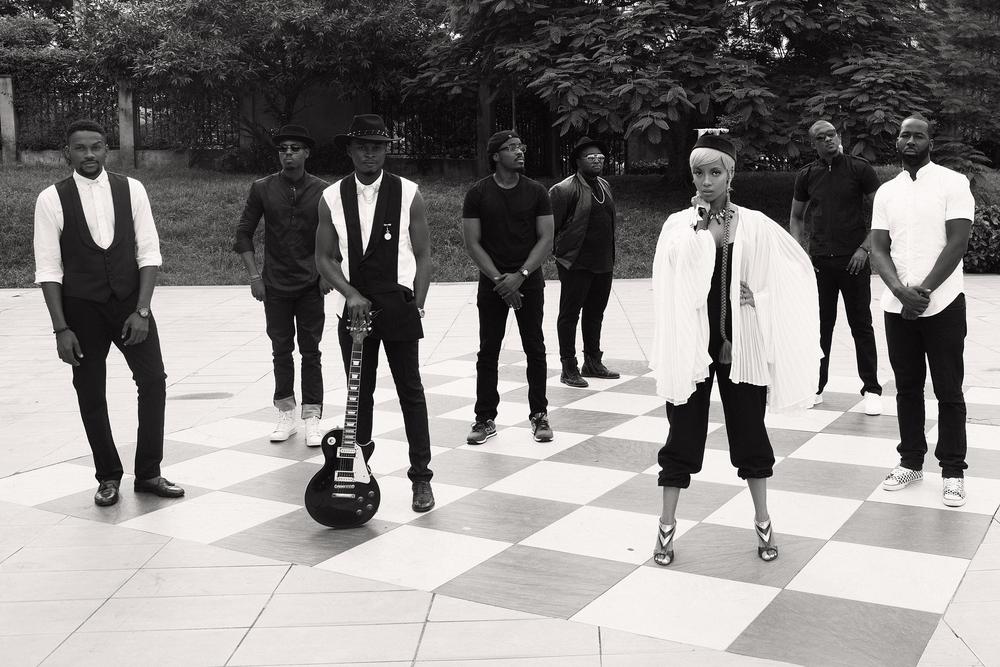 It has been more than three years since the super group released their debut project titled The Collectiv3 LP. Made up of producers IKON and Kid Konnect, singers Temi Dollface and Funbi; the trio of Poe, Ghost and Tec; the last two which make up the rap group Show Dem Camp; Nsikak: guitarist and producer.
"Nigeria's official country motto is
'Unity and Diversity' but there's not much of that in the music industry right now. The Collectiv3 is a movement of artists who share a creative telepathy and are coming together to stand up and make a difference. There's a kinship you can hear in the music." Temi Dollface, the first

lady of the group says in an interview with Nataal, which she had graced alongside IKON who had conceived the idea of an alternative super group years ago, although it wasn't until executive producer Chin Okeke assembled the group in hopes to reaching a "free spirit" movement; also to boost, individually, their popularity.
However convincing the patriotism in Temi's words, it should be aptly remarked; the words 'creative telepathy.' Among themselves are friends and a kinship tethered by music. Take it Slow by Funbi and Poe sounds like partners stripping bare to coitus in second skin: music. The latter has frequently collaborated with Show Dem Camp, going as far back as SDC's Clone Wars and recently, they both swapped verses: Ghost – a member of SDC – featured on Poe's debut album Talk About Poe and the Mavin signed Poe made an appearance on the Palm Wine Music Vol. 2. So these guys are not new to each other

they've created magic together for a long time.
This album in review, like the (first from its creators) boasts of nine tracks – and just twenty nine minutes–

makes for a breezy listen. Anything from the next paragraph is a one listen review: gut reaction to each song, no rewinds or skips. Just loyalty to the profession and to the album. What has The Collectiv3 got in store for us?
1.
FULFILL YOUR DESTINY ft. Mokeyanju
Reggae vibes: there's a sonorous voice behind these drums, the title being sung. It's just the drums, a slice of EDM evident here.
The featured act is a spoken word artiste, I think. Her words sink into the instrumental quite well. A... strange opener. Definitely returning to this; to know how her words fit into the larger narrative of the album.
2.
KISS THE FIRE ft. Tec, Tomi Thomas & Tems
The song starts off with a calypso esque accentuated what? I'm guessing it's the hook. That seems to be returning. Tec is so underrated it becomes strange when it's all Ghost mentioned as GOAT contender.
Yes, it's the hook. This instrumental sounds like it could be made with kitchen utensils though there's a heavy bass synth going in the background. Tems is just goals! From her splendid appearance on Poe's TAP to this. Her voice so dangerously alluring the title makes perfect sense.
3.
HOLD YOU DOWN ft. Funbi, Ladipoe & Tomi Thomas
Funbi's
voice will make love to you over the phone, just saying. That talk of him being a fine mix of Michael Jackson and Chris Brown true, though his originality is evident much of the time. Proclaim Poe the king of one liners already: "the sweetest cavity is the one you don't need a dentist for."
This song breaks into that Reggae/EDM mix at the end as it did on the previous track and Tomi absolutely owns it! These songs are like fucking collaboration album. Every artiste is holding down his forte.
4.
STOP ME ft. Show Dem Camp
Spax
shout out at the beginning. Produced by him? Tec's lightness is the perfect contrast to Ghost's trademark husk as it must have been mentioned many times. Ghost appears in a dress for the party but it's not his best dance. M.I would have made this song exceptional; it seemed produced for his "pothole flow, nigga I dey burst tire" kind of puns.
AND FOR THE RECORD: SDC are not top five; more like top two. Apart from Black Vulcanite of Namibia, there are few African rap groups with their longevity and influence.
5.
SJHRN INSTRUMENTAL ft. Ladipoe
This instrumental sounds like it was made on a rainy day with a cigarette in the room. Don't ask me why, I just think so! Poe doing the something just happened right now chant was light. Would have loved to see how well he would've approached the beat.
6.
DELILAH ft. Ladipoe, IKON, Tomi Thomas & Funbi
First of all, I hope there's no Demonization of Delilah as it Regards the Samson Folly. There's been enough of that in our music. (Adekunle Gold, I see you) Ever wondered why you've never met a girl named Delilah?
Poe
delivers a Marry Me theme verse, IKON snatches it from him. The pace of the transition on this joint is goals. Tomi T gives a good hook. There's a riff – I can't quite place the instrument; it's most likely a guitar – at the end and the keys, Lord! Definitely the best produced song yet.
7.
TRY ft. Tec, Funbi, Blinky Bill & Ghost
Tec's
intro is solid ("shey you know the city still reflects us?") and Funbi is owning this. It's ridiculously good how his voice is at home on these sounds that are so unlike his individual preferences. Blinky Bill (first time hearing of him) sounds okay; his voice is a mood. Is it just me or there's no Ghost here?
8.
I WANT IT BACK ft. Funbi
The Halleluyah boy has been one of the more astounding artistes on this album so it's a thrill to see him own this one. Heavy Reggae drums – perfect antithesis to his vocals.
"You left my watch but you took my time,"
He sings as he laments a heartbreak, calling it a lesson in disguise. Would have made sense if this song was the Delilah titled – if the exceptional chorus didn't exist of course!
Totally out of the sound we've come to know Funbi for but as I remarked in the previous song, he's enlarging his coast. Would be splendid to hear what he's got next for us.
AND JUST WHEN I THOUGHT WE WERE DONE!!! That guitar riff thing on Delilah dominates again. This one reminds me so much of DJ Khaled's Wild Thoughts or Carlos Santana's "Maria".
9.
TAKING OVER ft. Preyé Itams & Ghost
Pardon me for thinking it was the Preye of the gospel hit song Ebezina. This Preyé comes in with jazzy vocals. Ghost's output on The Collectiv3 LP has been minimal but on Taking Over, it is hard to disagree with the commentary on how Ghost has not dropped a B Grade verse since the beginning of the Clone Wars series.
"A picture is worth a thousand words,"
he reminds us as he goes on to paint a vivid one over the canvas which is the boom bap of this instrumental. Solid end to the project.
The Collectiv3 LP
is a magnificent album which threads on the lightness of sound. Unlike their first project, there aren't too many "outsider" collaborations and this works to the credit of the art.
These songs makes for a satisfied listen and if that isn't enough in this Age of Distraction, I don't know what is.
LISTEN to the Album
HERE