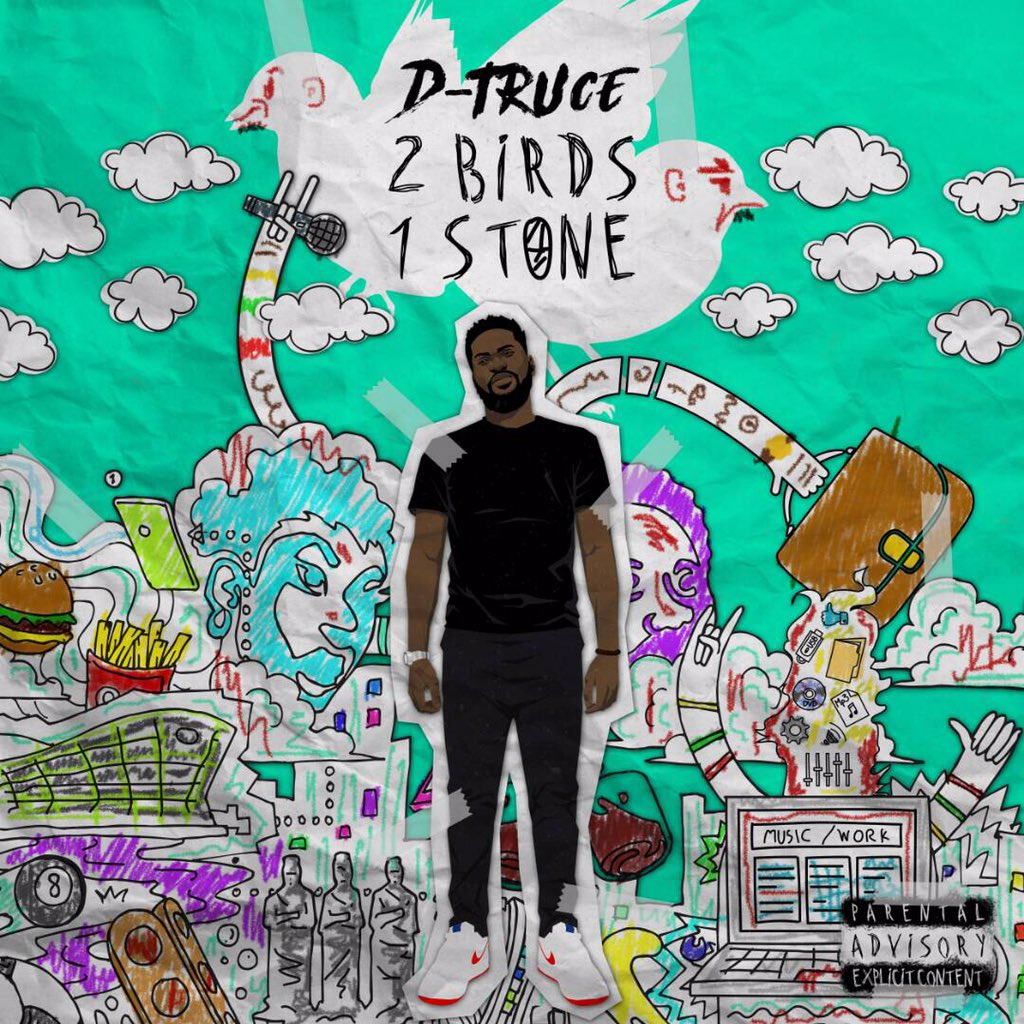 If you judge books by their covers and tagged professions to faces, you would assume that D Truce was a lush voiced R n B artiste. Not only would the latter be false (he has a spectacular voice) but the premise on how tough such people are.
Dusten Chukwuebuka Anyaese is a hard worker and also a talented individual. In a country where its president calls the youth lazy, he presents the true story in his debut album aptly titled 2 Birds, 1 Stone.
You should hit click on this album for many reasons but chief among them, his impressive discography. Starting out with a playlist titled the The Truce Shall Set You Free, he possessed the rawest weapons at the disposal of a rapper who's studied the craft and learnt from the masters – as far back as six, seven years ago, so immense of a prospect were he that he had the coveted cosigns of Vector and Mode9. Amongst his earlier strengths is a knack for storytelling. Relatable, filtered through his experiences. The opener of the EP Eden was 1st Day, a honest song which walks the listener past the events that shaped his life. You could almost reach out and touch them.
This debut offering wears on a conceptual dress from its onset. On the cover, Truce is like a more-than-meets-the-eye gardener, surrounded by all things lush and colorful. Amongst special covers, this one seats at an elevated place.
The music too, follows this exotic taste. From the first second, there's a thumping bass synth, and then D Truce enters the project with a satirical take on the Nigerian Police:
Olokpa tell me the price of freedom
But I no get money, please I'm very sorry
Over the mellow jam of an instrumental, he sings of his independence but recognizing how the institutional powers that be might be on ground to stunt this dream. His rhythm switches effortlessly between singing and rapping, reminiscent of Blackmagic's favorite trick. From the first song, you get the feeling D Truce's voice will once again, come first in the relaxed race for artistic excellence.
Truce's vocals is so serenading, it could make a death row prisoner giddy. Even when the theme is inciting to people who live fake lives, the music could make them sway to their inexistent high grade night clubs.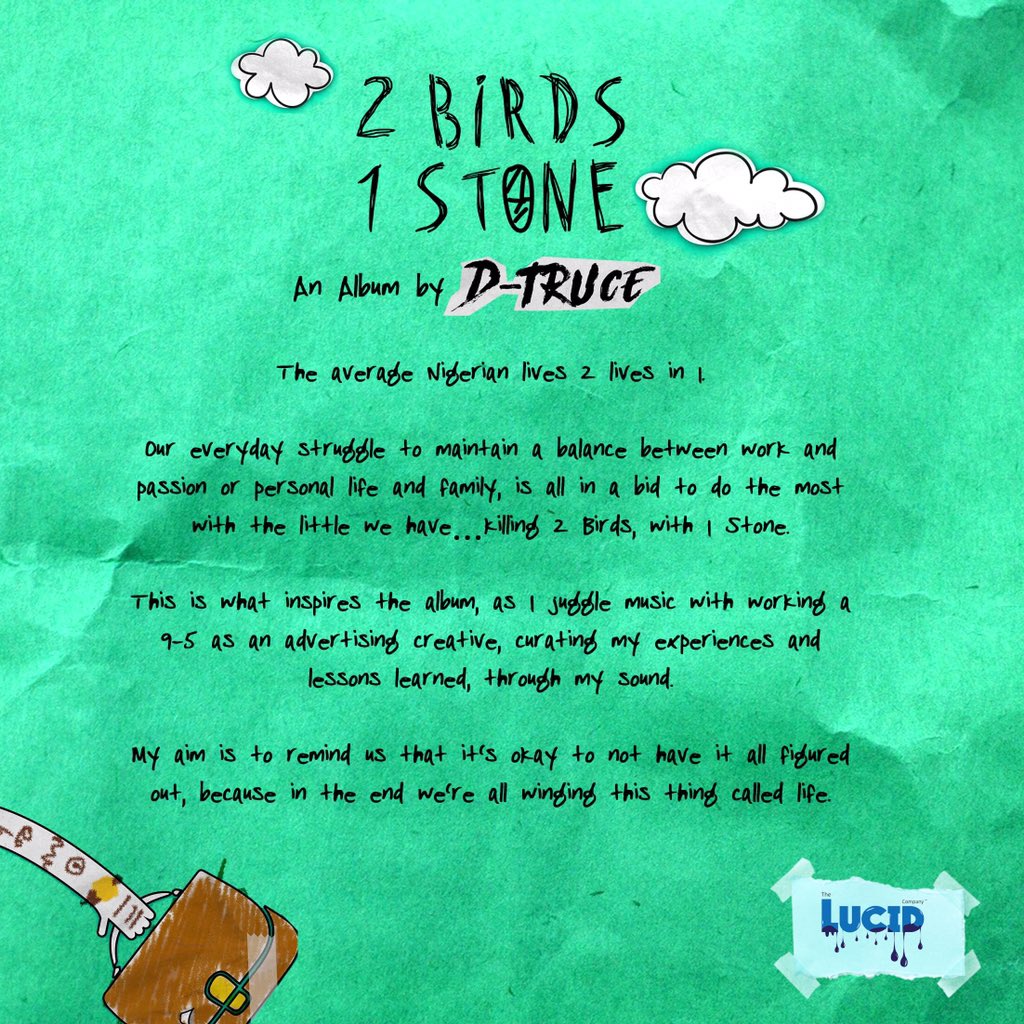 In keeping up with the freshness of content, all the songs in the project (except the first) are a two in one package. After the singing of Celebrity Champagne, Truce seamlessly raps his way into Mom's Mercedes, an aspirational song which reiterates his desire to make his love ones proud.
Feel/ Conversations begins with a fine attempt at trap. Singing Truce is at the front line again, asking for a confirmation. There's a whistle of a sound at the end before a maximalist drum production comes in. Truce kicks off with a sing song Igbo, then switches into full English rapper mode.
Having conversations with the voices in my head
Paranoid cos these niggas wanna know my every step
The trademark indie 'fuck a label' chant makes an appearance on this but it is more at home here. Five songs in, there's been little hint that a bigger bag will do better than this. At the tail end, the promising Straffitti delivers a banging verse, infectious in its youthful exuberance.
Roll Up/ Hotbox Skit are fun takes. The first at members of the opposite sex, drawing inspiration from Ajebutter22's trademark flow. Dewa, 3rty, and TylerRiddim freestyle in the studio, their voices, laughter and chatter more of a mood setter. Truce jumps in at the end to declare: my shots are delicate.
Indeed. Paybac was one most suited for a song titled Oga Police. With an interloping trap production, he alongside Truce and SlayVelli relate tales of their encounters with the Police. Going back to the main theme driving the album, 9 – 5 Interlude addresses his expert skill at balancing a day job and his dreams of making it big in music.
Lagos, the ultimate muse, makes an appearance on City of Excellence. Like a master satirist, he works on the title to reveal the inner workings of a city. On first and subsequent listens, this song has the biggest chance to live a long life. His stream of consciousness is focused on the small things often pushed asides as the norm. He recognizes this: religious indoctrination, tribalism, political theft, Internet fraud, etc.
Many quotables to take from the song. However, it is the only song with so much rap in It, and that's a good thing.
On 2 Birds, 1 Stone D'Truce focuses on the sound, recognizing his immense potential for easy on the ears singing. Regardless of how heavy the theme is, striving for musical balance, he sets off his job. Each song, purposeful in length and sound, is a yarn woven into the bigger cloth: the hassles of the Nigerian creative, who often than not, has to hold down a job whilst pursuing a big break in his creative career.
D-Truce has been honing his craft for quite some time now and on his debut you can see the progress, he has developed his signature sound and is executing better, if he keeps going, its only a matter of time now.